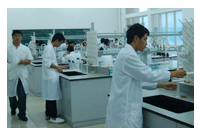 HS chemicals provides a high quality comprehensive service to fulfill the needs of worldwide partners in their drug discovery & development process. We are dedicated to building long-lasting relationships with customers through excellent quality products and customized services
  Our factory has strong R&D ability in indazole products areas.We have producing experience from 1kg to 1T of that.Do you have been interesting in indazole such as 3-Bromo-1H-indazole,3-Iodo-1H-Indazole,4-Chloro-1H-Indazole,5-Methyl-1H-Indazole and 5-Fluoro-Indazole etc.We can provide reasonable prices and good quality to you.We can handle emergency requirments if you need that urgently. By the way, we have some stocks of above products.
  If you interested in any of the compounds or you want to find other compounds you need, please freely contact us.
We can provide our product catalog and inventory for your referenc.We will much honored by trying our best to serve for you.
If there is anything we can do for you, please don't hesitate to contact us.
  We will be glad to meet you at CPhI and P-MEC China ShangHai W5A102 on 26-28 June 2014.